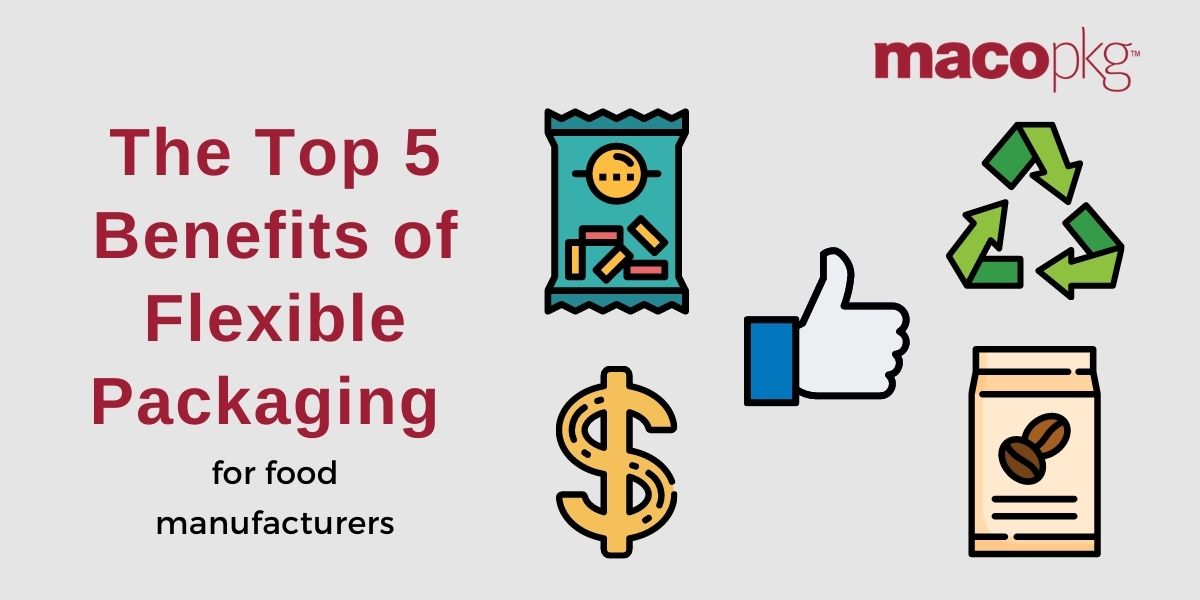 Today, top flexible packaging companies utilize innovative technologies that will set your product line ahead of the competition. 
From stand-up pouches to folded bottom and single serve pouches, food manufacturers have many options at their fingertips. 
Just what makes flexible packaging a great choice for your product offerings? Let's explore the top five benefits of using flexible packaging for your product distribution strategy.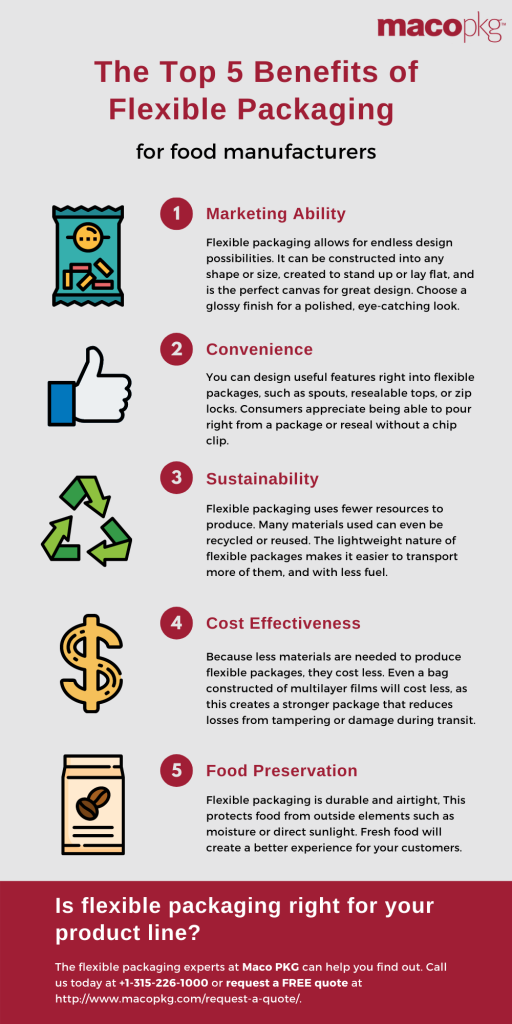 Flexible packaging clearly has many benefits for companies and consumers alike. Here's a closer look at those top five benefits of flexible packaging for food manufacturers. 
Marketing Ability
The packaging around your product may be the first impression a consumer has of your offering. Flexible packaging is conducive to endless design possibilities. It can be constructed into any shape or size, and can be created to stand up or lay flat. 
The material also acts as the perfect canvas for eye-catching graphic design. Make your product stand out with a gloss matte or soft touch finish.
The ability to make design a prominent feature of your packaging affords you better brand recognition. With the right packaging, your product will stand out on the supermarket shelf, and can increase your sales overall. 
Convenience
One of the other endearing aspects of flexible packaging is the functional benefit for the consumer. Because the material is, for lack of a more original word, "flexible," you can seal useful features into it, such as spouts or zip locks. 
A bag that you can reseal without needing a chip clip makes it easy and convenient to keep food fresh. 
Related Article: The Ultimate Guide to Choosing Food Packaging
Sustainability
You may be surprised to learn that the flexible packaging of today is also eco-friendly. 
Flexible packaging uses fewer resources to produce. Many materials used can even be recycled or reused. 
The lightweight and compact nature of flexible packages make it easier to transport more of them using less fuel. 
Cost Effectiveness
The eco-friendly attributes of flexible packaging are what make these products cost effective as well. Because less materials are needed to produce flexible packages, they cost less. 
Even a bag constructed of multilayer films will cost less, as this creates a superior barrier that protects products from environmental conditions.
You can even put more product in a flexible package versus a traditional package. This cuts back on manufacturing costs. 
Finally, it costs less to transport packages that weigh less. 
Food Preservation
Flexible packaging is designed to be airtight. This quality makes it an excellent choice for preserving the contents within. Food goods are protected from environmental elements such as moisture, temperature, sunlight, and pests. Even after opening, features like a zip lock help keep the freshness in. 
As mentioned earlier, flexible packages are quite durable, and less prone to damage. Packages that stay intact will keep the food contained fresher for much longer. 
This may go without mentioning, but food exposed to the elements can spoil easily, and tarnish the reputation of your brand. Even worse, food that's not at its freshest can pose the risk of food-borne illness. 
Choose flexible packaging to protect your customers and your brand reputation from stale goods. 
Is Flexible Packaging Right for Your Brand?
The flexible packaging experts at Maco PKG can help you find out.  We offer custom solutions and the best advice that the industry has to offer.
Maco offers both pre-made pouches and co-packing services to allow our customers flexibility. 
Call us today at +1-315-226-1000 or request a FREE quote and we'll get in touch with you soon.