What is PacXpert Technology?
PacXpert™ Packaging Technology, from The Dow Chemical Company (also known as "Dow"), bridges the gap between flexible and rigid packaging. This innovative flexible stand-up pouch offers the same durability as rigid packaging but offers savings in areas such as transportation, warehouse storage, and displaying on retail shelves. As the product is used, the packaging folds over itself, further optimizing storage space, and consumes minimal space in a landfill after use.
PacXpert has earned numerous packaging awards for its unique ergonomics, durability, and shelf appeal. With the addition of dual handles, as well as the placement and angle of the seals, PacXpert won't burst or break during transport. The gusseted corners offer durability and secure handling. This packaging also displays four sides of advertising space and custom print options, as well as the option for a transparent window to reveal the product inside.  
The Advantages of PacXpert Packaging Technology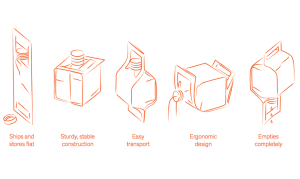 PacXpert offers several significant advantages to retailers and brand owners:
Prior to being filled with product, packaging lays flat

Reduced transportation costs

Packaging cubes out when filled, can be easily stacked either vertically or horizontally to optimize storage space in warehouses and retail shelves

Accepts various fitment styles to suit the needs of the product

Virtually endless custom printing options

Visually appealing for easy marketing

Lightweight, easy to lift even when filled with product

Transparent packaging allows remaining product to be clearly seen  

Dual handles offer easy carrying and pouring capabilities

Fitment prevents glugging when pouring

Requires less raw materials than its rigid counterpart 
Product Options Using PacXpert Technology
PacXpert accommodates a variety of reclosable fitment options to suit a vast assortment of product applications. Product options include both edibles and non-edibles.
Edible examples include Oils, Condiments, Sauces, Soups, Honey, Syrups, Water, Juices, Dry Pet Food or Treats, Rice/Grains, Breakfast Cereal, Dry Baking Products (flour, sugar, etc.), Ground Coffee, Snack foods, and more.
Non-edible examples include Paint & Coatings, Detergents, Cleaning Products, Motor Oil, Fuel Additives, Seeds, Cat Litter, De-icer Pellets, Fine Aggregates (filter sand), and many more. The PacXpert Technology is suitable for packaging anywhere from 1 Liter to 20 Liters of product.