Does your product require dry-filling equipment? You've come to the right place. We'll help you decrease manufacturing costs and increase productivity. Whether you're marketing sweeteners, ingredients, nutritional supplements, nutraceuticals, or other common dry food products, Maco PKG has the resources to perform dry filling packaging. We can help with your kosher, organic, gluten free, all natural, or non gmo products. Maco maintains an SQF 2000, Level 3 Certification to address the Global Food Safety Initiative. We are also ISO 9001:2008 certified.
How Maco Does Dry Filling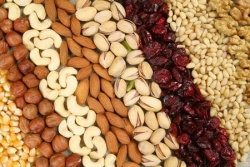 Maco is very versatile and diverse in packaging options for dry goods. We form, fill, and seal products both inline and rigid inline into flexible packaging. Your dry goods will free flow into a bottle or pouch. The product can be fed by weight (vibratory) or volumetrically. The bottle or pouch will be guided along on a conveyer until it is packaged and ready for storage or shipping.
Dry Foods & Cross-Contamination
We can inline dry fill anywhere from a few grams up to 5 pounds. Because dry foods are airborne, we are aware of the potential for cross-contamination. To avoid this, we have the ability to house your food items inside independent environments that are on segregated temperature, humidity, dust collection and air handling controls. With this capability, we avoid risks when dry filling allergens and maintain claims like organic and gluten free.
Our Most Popular Dry Products
We've packaged dry products of much diversity. From nutritional supplements like pills and nutraceuticals (protein shakes), to sweeteners and super foods like flax seeds, steel cut oats and dry fruits, we maintain the same high standards for any variety. When we package dry food, we strictly regulate our organic and kosher certifications. The safety of your food product is our high concern.