Maco Pkg Partners with Dow to Bring PacXpert to North America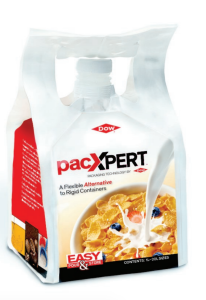 Newark, NY – Maco Pkg is partnering with The Dow Chemical Company (NYSE: Dow) to manufacture PacXpert™ Technologies—an innovative form of flexible packaging that is changing the landscape for retail shelves and wholesale packaging.  The partnership will address the growing demand for convenient and sustainable packaging solutions in North America.
Maco Pkg ran several trials on various materials and packaging for Dow during the past six months—the  most significant being PacXpert.
"It's a very stable pouch, very strong, especially in regards to all the testing it's gone through," commented Maco Pkg account executive Tom Seymour. "Because of the placement of the seals and angles on the packaging, consumers and manufacturers don't have to worry about pouches bursting or breaking. It's a huge advancement."
With its unique ergonomics, PacXpert has earned multiple awards for its engineering design while enabling the transition from rigid, large volume containers.  This flexible pouch offers lightweight durability, optimized marketing space, and more efficient use of resources throughout the product lifecycle.
According to a Dow case study on sustainability, "The environmental impact of transporting one-gallon PacXpert containers is approximately 20x lower than the transport of other one-gallon containers."
PacXpert comes equipped with handles on both the top and bottom for easy lifting and precision pouring. For shipping and storage, the pouch lays perfectly flat, optimizing shelf space. When filled with product, the packaging cubes out to allow for space-efficient storage, stacking, attractive shelf appeal, and the ability to stand up either horizontally or vertically.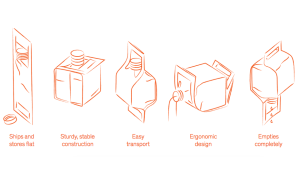 The packaging fitment can be interchanged for a wide variety of possible contents, ranging from non-edibles (i.e. paint, motor oil, cleaning products) to edibles (i.e. breakfast cereal, dog food, coffee). Since the packaging is transparent, the contents are easily viewed, and printing options for all four sides are virtually endless.
For more information visit www.macopkg.com or www.dow.com/pacxpert.
About Maco Pkg
Maco Pkg of Newark, NY has manufactured innovative, high quality packaging for a wide variety of industries for over 80 years. Within their 240,000-square-foot facility, they specialize in flexible packaging, contract packaging, and customized packaging solutions. Maco has serviced the US Military, food and beverage, industrial, automotive, medical and dental, health and beauty, electronics, and photography markets.
As an ISO 9001:2008, SQF 2000 Level 3 certified facility, Maco Pkg converts roll stock into pouches, film bags, standup pouches, side gusset bags, sheets, flexible packaging, speciality items, and much more. Maco Pkg is capable of packaging kosher and Oregon Tilth Organic certified products, and is FDA compliant. Maco's services include consultations, prototype packaging, package manufacturing, sourcing packaging materials, trials and samples, and large runs.
Maco Pkg is committed to preserving the environment and works closely with biodegradable material suppliers to manufacture eco-friendly products. For more information, please contact Tom Seymour at Maco Pkg: tom.seymour@macopkg.com; phone: (315) 226-1028, or go to www.macopkg.com.   
About Dow
Dow (NYSE: DOW) combines the power of science and technology to passionately innovate what is essential to human progress. The Company is driving innovations that extract value from material, polymer, chemical and biological science to help address many of the world's most challenging problems such as the need for clean water, clean energy generation and conservation, and increasing agricultural productivity.
Dow's integrated, market-driven, industry-leading portfolio of specialty chemical, advanced materials, agrosciences and plastics businesses delivers a broad range of technology-based products and solutions to customers in approximately 180 countries and in high-growth sectors such as packaging, electronics, water, coatings and agriculture. In 2015, Dow had annual sales of nearly $49 billion and employed approximately 49,500 people worldwide.
The Company's more than 6,000 product families are manufactured at 179 sites in 35 countries across the globe. On June 1, 2016, Dow became the 100 percent owner of Dow Corning Corporation's silicones business, a global company with sales of greater than $4.5 billion in 2015, 25 manufacturing sites in 9 countries and approximately 10,000 employees worldwide. References to "Dow" or the "Company" mean The Dow Chemical Company and its consolidated subsidiaries unless otherwise expressly noted. More information about Dow can be found at www.dow.com.