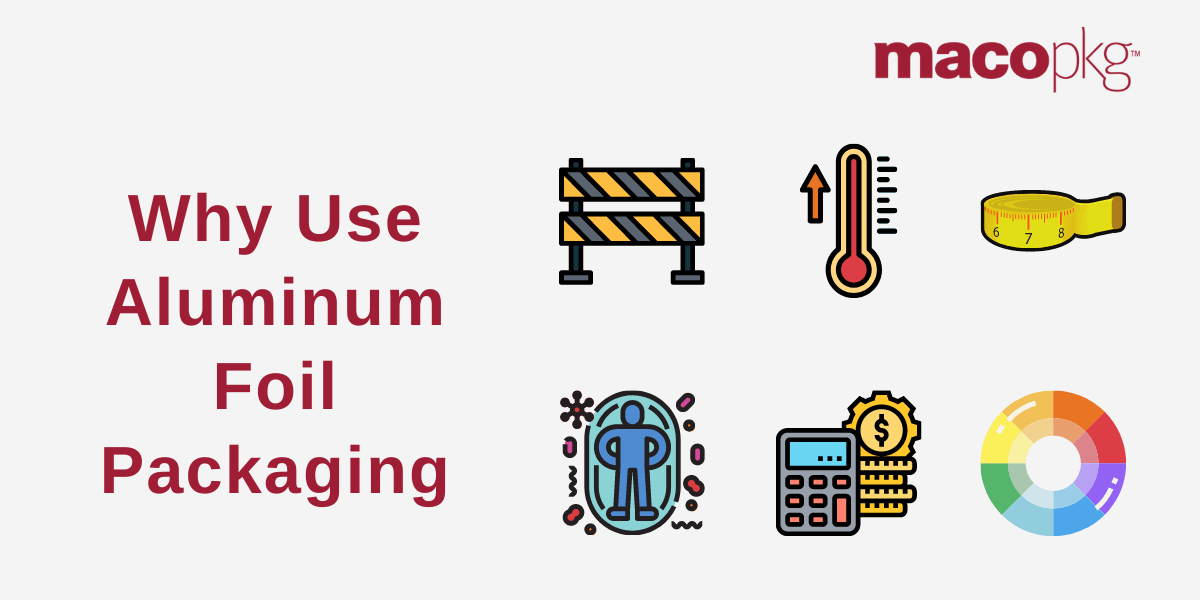 Protect your products and enjoy iconic marketing solutions with aluminum foil packaging. Foil flexible packaging comes in a variety of designs and offers significant benefits for your company and your products. Read on to discover how choosing foil as your packaging material can help you improve your food, medical or industrial products.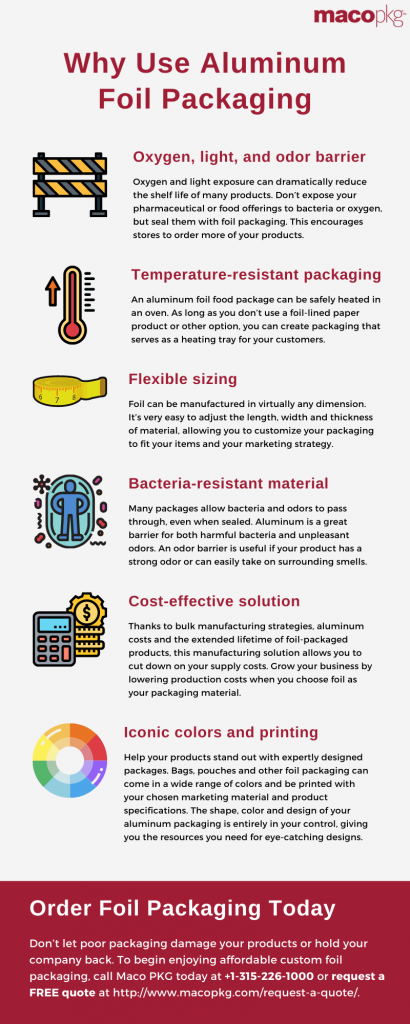 Advantages of Aluminum Foil Packaging
Aluminum is a durable material that can be used to line packages and seal your products. Here are the main advantages of using this material for your products:
Oxygen, light and odor barrier
Temperature-resistant packaging
Flexible sizing
Bacteria-resistant material
Cost-effective solution
Iconic colors and printing
Oxygen and light exposure can dramatically reduce the shelf life of many products. Don't expose your pharmaceutical or food offerings to bacteria or oxygen, but seal them with foil packaging. This encourages stores to order more of your products.
An aluminum foil food package can be safely heated in an oven. As long as you don't use a foil-lined paper product or other option, you can create packaging that serves as a heating tray for your customers.
Foil can be manufactured in virtually any dimension. It's very easy to adjust the length, width and thickness of material, allowing you to customize your packaging to fit your items and your marketing strategy.
Many packages allow bacteria and odors to pass through, even when sealed. Aluminum is a great barrier for both harmful bacteria and unpleasant odors. An odor barrier is useful if your product has a strong odor or can easily take on surrounding smells.
Thanks to bulk manufacturing strategies, aluminum costs and the extended lifetime of foil-packaged products, this manufacturing solution allows you to cut down on your supply costs. Grow your business by lowering production costs when you choose foil as your packaging material.
Help your products stand out with expertly designed packages. Bags, pouches and other foil packaging can come in a wide range of colors and be printed with your chosen marketing material and product specifications. The shape, color and design of your aluminum packaging is entirely in your control, giving you the resources you need for eye-catching designs.
Features of Foil Packaging
This packaging solution is relatively new in the United States, but many European manufacturers have been using foil for some time. Whether pure foil or a laminate product, these materials are at the cutting edge of food-safe solutions.
One of the main benefits of this material solution is its diverse features. You don't have to use pure aluminum foil to wrap your items for industrial, food or medical use. Instead, consider foil-lined flexible packaging.
Foil lining can be tailored to your particular product and used with multiple materials. Use it with a paper exterior, adhesive or organic solution. Because of the flexibility of foil, you can customize the inner and outer layers to fit your specifications.
Modern printing gives you complete control of the design of your packaging. Create vibrant labels using bold colors and iconic images to help your products stand out. For industrial and medical items, labels provide the necessary information to protect consumers.
Not every foil package manufacturer can offer these features and benefits. When choosing a co-packer, make sure you discuss your packaging problems and logistical situation to verify that they have the capabilities you need.
Packaging for the Food Industry
There are a diverse range of packaging materials and designs for your food products. If you're feeling overwhelmed with your options, or looking for a new way to keep contents fresh, consider foil. Here are some benefits of this versatile material for food industry use:
Custom packaging sizes
Extended product lifetime
Low-cost solution
Choose foil packaging for food products to keep out bacteria and enjoy enhanced odor protection. Candy, dairy products and coffee are popular options for foil packaging, but there are many other suitable food industry products.
Aluminum isn't recommended for use with salty or acidic foods. Aluminum ions can affect these products if stored in direct contact. For best results, use a composite film lining to enjoy the benefits of aluminum without the risk of dissolving aluminum ions.
Options for Industrial Packaging
Keep your company moving forward with the pinnacle of industrial packaging. Here are some key benefits of choosing foil for your industrial products:
Bulk order capabilities
Customizable size and label designs
Streamlined manufacturing process
Industrial products need to be protected from odors, fumes and other adverse environmental factors. Package these products with foil flexible packaging to maintain product integrity and OEM standards. While industrial products may not need to be wrapped in food-safe packaging, they do need to arrive at client locations without being compromised.
Industrial products may not come with expiration dates, but they can still be affected by bacteria, oxygen and light. Foil is a flexible solution to industrial packaging demands. Choose this cost-effective, fully customizable solution for a prototype or bulk order of industrial components.
Benefits of Medical Foil Packaging
Just like food products, it's crucial to keep medical products safe from the effects of bacteria and oxygen exposure. Find dynamic medical packaging solutions with foil to enjoy these benefits:
Sterile packaging
Easy-open packaging
Composite laminate solutions to avoid aluminum ion exposure
Pharmaceuticals and other medical products demand the same level of product safety. Order foil bags or other flexible packaging to protect vitamins and supplements from the adverse effects of oxygen and light.
Medical foil packaging doesn't just protect these materials, but also offers a great way to customize packaging. Pharmaceuticals must include a long list of warnings, recommendations and information about the contents. Failure to do so could put consumers at risk. Order custom packaging that includes all the necessary information for your medical products.
Order Foil Packaging Today
Don't let poor packaging damage your products or hold your company back. Request a quote from Maco PKG to enjoy affordable custom foil packaging for your industry. Explore our custom solutions and discuss your product specifications to receive the industry solution you deserve. Discuss your packaging requirements with our design team today for industry-leading solutions.